A few months ago I was reintroduce to my obsession with Patricial Fields. It happened as soon as she posted a photo of her portrait clock. I HAD TO HAVE IT and so I immediately did some digging on who was responsible for this fun reminder that time is of the essence.  
Enter Crosby "Clockwork", a self taught artist who turns your favorite icons into mementos. I interviewed Crosby back in June while he was in Spain, but missed getting around to publishing the piece earlier (mainly because of our #GROUPDYYNAMICS event – still taking RSVPs!).
The combination of chaotic NYC living, dream chasing and retrograde recovering had left me exhausted.  I was at the point of burnout when I rediscovered our Q&A (i.e. perfect timing) and got the pep talk I desperately needed (thanks universe). 
Crosby reminds us that passion and purpose go hand in hand and that the small joys of life are worth more consideration than the small challenges. It's no wonder he coined himself "clockworks", the introspective visual artist mastered the art of making the most of your time. 
1. Where were you born? Where are you based?
I was born in the Lower East Side of New York City. Alphabet City, East Village, Ground Zero. 
I've been creating in the lower my entire life and I'm currently traveling around the world creating whatever inspires me. I left New York three months ago to take my art world wide, From LA, Austin, Dominican Republic, Tokyo, Republic of Georgia and I'm currently answering these questions from Tossa De Mar in Spain. Life is wild. 
2. Are you self-taught?  Or did you go to school for your craft? Which school?
With art I am self-taught although both my parents are artists so I get a lot of influence from them. I have a literature degree from SUNY Purchase but that doesn't play much into my life other than inspiration. I'm always looking to learn new techniques and processes I find interesting. I just learned a Japanese tradition called Kintsugi which is the process of repairing things that are broken with gold. I made a series of clocks in the style for my ten day residency in Japan, so I'm still constantly learning. Soon as I think I know something I realize I don't.
3. What is the one advice you wish you had coming up as an artist?
Never be afraid to ask for help. I had a big ego when I was younger and thought I had to do everything myself. Now looking back I realize it doesn't really matter to people if you had help doing it or you did it alone, all they look at is the end result. Is it dope or not? If you can do it alone, cool. But be the best you can be and never hesitate to reach out to the people you think are dope and can help with building what your passionate about. Not to say rely on other people but if you're doing cool shit than it will shine and anyone who has put in the work themselves will see it and be willing to assist. If not, do it until they can't deny you. 

4. Why did you decided to turn these icons into clocks?
Throughout history certain people rise to become icons for the contributions they've made in their lifetime. Those icons inspire us to be great and create our own history. My clocks are just the daily reminder to be great and find the inspiration you seek. If you're a singer looking at a Whitney Houston clock might remind you to hit that high note better, or if you're a boxer Mike Tyson might make you train harder. Each clock is very specific to each person and the motivation will be different but I think something about time is really magical if not surreal. 
5. Who is your favorite legend turned clock art piece so far? Why? 
I find inspiration everywhere and in everyone, but Salvador Dali is always a recurring icon for me. Sometimes it varies depending on how I'm feeling and what I'm into at the time or if I'm actively searching for something new to work on. The surrealist group has always been a huge influence on my work and I'm always trying to take the time to pull out of the digital world and focus more on creating tangible pieces. I still believe things you can touch and feel have more energy when set in the right environment. The ticking of my clocks create a sonic element that even if you close your eyes you can feel them. I just think things you can feel are more real. 
6. Who would you like to collaborate with the most on a clockwork piece? Why?
Jeff Koons would be dope since we both are living American artists and he has had a long history of creating things that re-shape the landscape of contemporary art. I think me and Damien Hirst would make something really interesting and he is very conceptual like I am. We both work within the theme of death a lot and I would be interested in seeing what we could create if we explored that. I would have liked to work with Andy Warhol, I had Bill Cunningham before he passed tell me that Andy would have found me very intriguing. I'm sure we would have flipped downtown upside down. I've been collaborating with the artists I think are dope in the young art scene in New York a lot and I'll continue to make dope shit before the blue chip art world recognizes who we are and what we have to offer.
7. If you could live anywhere in the world for a year, where would you? Why?
That is the exact question I asked myself before I left New York. I left my apartment and put all my stuff in storage without a sure fire plan and decided to travel the world. I felt like I had hit the ceiling in the city and I felt the need to escape and discover the world. I'm young and I have all these clocks to offer so why not just fly. I had my first solo show in Los Angeles in February and knew I would be going to the Republic of Georgia in May without anything really planned in between. I got a call to go to DR and Japan during my 3 week stay in LA and offered to hit SXSW in March. The universe kind of just opened up for me and allowed me to take my art around the world. Its now June and I'm in Spain with the plan to possibly hit Berlin next but I figure after I check out some more countries I might have a better idea of where to land or if I'll head back to NYC. After my residency in Japan I was thinking about living in different countries for a year while creating location specific pieces and learning a new language. I'm not really sure yet, but I have my entire life and world in front of me, there are no rules.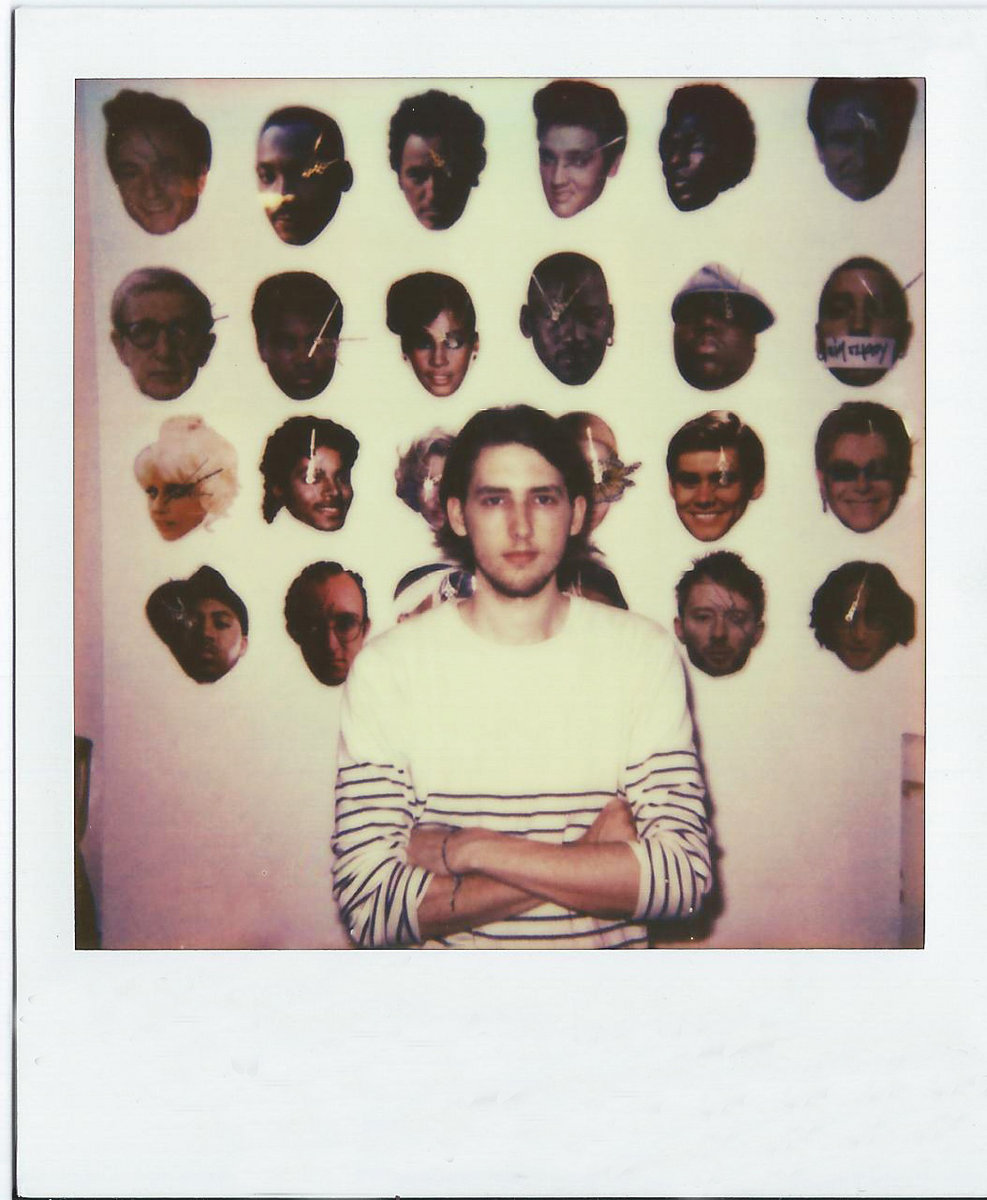 8. How do you stay inspired?
Enjoying the little things and not stressing the small stuff. I believe things will work out if you let them. I've had to get out of my own way recently to allow my blessings to come. I work constantly and when you focus on the wrong things it can cloud your enjoyment. I try to stay positive when something stressful throws me a curve ball and let time work for me. An issue in the morning may disappear by the night if you just don't lose your cool. I work really hard on my craft and the last thing I want to do after all of it is lose my cool. Life can get really crazy sometimes but I try to step outside of my shoes and look at what really matters. Sometimes I realize I shouldn't let it get under my skin and I have better things to do. We are human and our emotions can get the best of us when you're very passionate about the things you love. I try to find balance and inspiration comes. 
9. Name three songs you could listen to on repeat. 
Maurice Ravel "Bolero"
TiDUS "My Energy"
Little Dragon "Never Never"
10. Someone offers to buy you a work of art – price, era doesn't matter – what'd you ask them to buy? 
Riding with Death by Jean-Michel Basquiat. 
Want to add to the discussion? Email info@dyynamics.com with comments, questions or tips. Follow Dyynamics on Twitter and Instagram, and like us on Facebook.
[mc4wp_form id="2223″]